Premier Bath and Kitchen
PLUMBING – HARDWARE – APPLIANCES – LIGHTING
The highly trained staff at PBK understand all phases of your plumbing project, and the accompanying issues of staging and on-time delivery.
Santa Rosa Fire Advisory
The PBK Santa Rosa Showroom is currently closed due to the effects of the recent fires and will remain closed until further notice. Phone lines and email will also be down until Wednesday, October 11, 2017.
Please Advise: Customers that have materials on order will be contacted directly. Arrangements will be made to fulfill current orders.
Thank you for your patience.
Miele $100 Off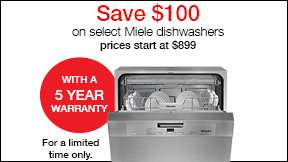 *Only available at PBK Rancho and PBK Walnut Creek
Partner Manufacturers