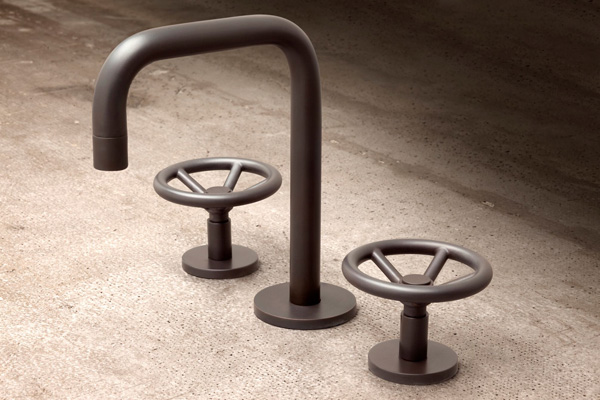 Brooklyn
Watermark Designs, the Brooklyn-based designers and manufacturers of faucets and fixtures for both residential and commercial projects, is kicking off a year-long celebration in honor of one of their most popular and brand-defining products: the Brooklyn faucet collection.
When Avi Abel met with Drew Stuart and Adam Rolston of Incorporated Architecture & Design (Inc.) about a project in New York, they weren't fully aware of the significance that their collaborative design and resulting collection would ultimately have. As the faucet celebrates its 10th year, it has become symbolic of everything that Watermark Designs represents; designed and manufactured entirely in Brooklyn, there was never a doubt as to what the collection would be named: Brooklyn – the original.
Inspired by mid-century gate valves and the garden hoses used throughout New York City, the Brooklyn collection remains the finest example of Watermark Designs' uncanny ability to manufacture industrial artifacts that emulate the artisanal borough from which they hail. Emblematic of its namesake city, the faucet was part of a display in the "Made in New York" installation at the Museum of the City of New York's South Street Seaport Museum. Installed in thousands of residences and hotels worldwide, the Brooklyn collection radiates a distinct, historical style treasured by urban loyalists.
While there might be many Brooklyn look-alikes, Watermark Designs is the original designer and creator of the product. In July 2017, Watermark Designs became a member of Be Original Americas, a non-profit organization committed to informing, educating and influencing manufacturers, design professionals and individuals on the economic, ethical and environmental value of authentic design while preserving and investing in its future. Members are approved by a membership committee that reviews each applicant's product designs and manufacturing history.
Be Original Americas understands that the value of authenticity cannot be underestimated or taken for granted in the marketplace.
"We've seen many of our designs 'reworked' and produced by larger manufacturers over the years, so aligning ourselves with an organization like Be Original Americas is important. It's tremendously helpful to have them helping educate people about the value of authentic design, no matter the industry or product type," said Avi Abel, president of Watermark Designs.
The Brooklyn faucet comes in a variety of finishes
As Brooklyn turns 10, Avi Abel decided to honor the faucet by teaming up with Watering Minds, an organization whose sole mission is to provide clean drinking water to children in Haiti. Throughout 2018, Watermark Designs will be donating a portion of Brooklyn collection proceeds to this important charity.
The celebration of the Brooklyn's 10-year reign as an innovative and quintessentially New York product is coupled with Watermark Designs' commitment to design authenticity and charitable giving. Their partnerships with Be Original Americas and Watering Minds position them as faucet forerunners and human rights conscious manufacturers as their characteristic collection hits the decade mark.
https://www.premierbathandkitchen.com/wp-content/uploads/2018/05/Watermark-Brooklyn-01_cropped-copy.jpg
400
600
premierbathandkitchen
https://www.premierbathandkitchen.com/wp-content/uploads/2021/09/PBK-website-logo-300x59.png
premierbathandkitchen
2018-05-14 12:03:29
2021-06-23 12:49:25
Watermark Designs' Brooklyn Faucet Collection Celebrates 10 Years of Design