VITALITY ROBERN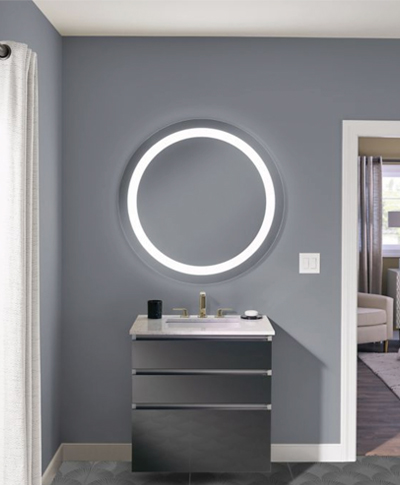 Whether you're primping, prepping, styling, or shaving, the perfect task lighting makes all the difference. The Vitality Lighted Mirror Collection combines optimal brightness, accurate color, and remarkable clarity, so you can start your day in a better light.
LIGHTING SPECS VITALITY LIGHTED MIRRORS
Kelvin: 2700K | 4000K
CRI: 90+
Lumens1: 746 – 1488
Lux1 2: 275 – 690
R9 Value1: 50+
Foot-candles1 2: 26 – 64
DEFOGGING
Defogging technology ensures a clear reflection, so a steamy shower won't slow down your mornings.
LIGHT DIRECTION AND OUTPUT
The right light is achieved by a combination of high lumen output and proper placement in relation to the face and body. Robern lighted mirrors have been carefully designed to enable you to see yourself in the best light by eliminating dark shadows, experience bright even task lighting, see rich, saturated tone in your reflection and be confident that lighting stays consistent, even for close-up tasks.
---
Curated Cartesian Collection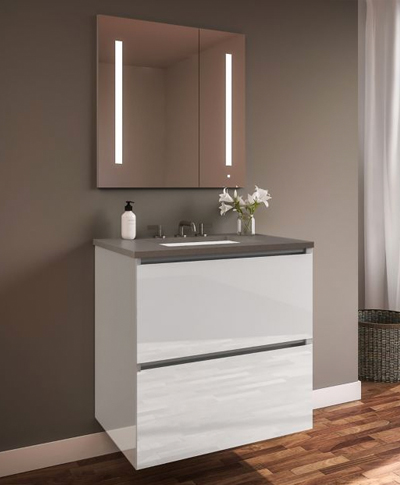 Take the guesswork out of vanity design. Robern's Curated Cartesian vanity collection streamlines the decision-making process with a handpicked selection of vanities to ensure a flawless fit that complements any design. Simply choose from three popular sizes, three stunning color combinations, and an optional night light to create a personalized vanity that transforms the everyday routine.
In-Drawer Electrical Outlet
Convenient 110-volt in-drawer electrical outlet supplies power to items such as electric razors, hair dryers, and curling irons. This accessory features three plugs and a switch that turns off power to the entire unit to allow appliances to be left safely plugged in. To be used in the 15″ plumbing or full drawer.
Integrated Night Lights
The nightlight provides a soft light that illuminates the drawer interiors to help locate items and provides wayfinding light in the middle of the night. A nightlight accessory is available to add a night light to your drawers as desired. One outlet will accommodate two-night lights and are required for installation.
White Glass Bottom Drawers
This shatterproof bottom will not degrade or show wear. With the glass and aluminum construction of the drawers, when done with a hair dryer or curling iron, put directly into the drawer and know it will not burn or leave heat marks.
https://www.premierbathandkitchen.com/wp-content/uploads/2021/09/PBK-website-logo-300x59.png
0
0
premierbathandkitchen
https://www.premierbathandkitchen.com/wp-content/uploads/2021/09/PBK-website-logo-300x59.png
premierbathandkitchen
2017-10-02 15:50:33
2021-06-23 12:49:25
Vitality Robern & Curated Cartesian Collection